Advisory Notice to International Divers visiting Fiji
re: Hyperbaric Chamber - Suva
Fiji's hyperbaric chamber based in Suva is NOT operational currently and may be some months until back in service. Divers are recommended to obtain suitable medivac divers insurance prior to diving in Fiji - visit our Dive Insurance page with direct link to the Dive Assure website for one option.
Promoting Happy and Safe Fiji Diving!













SCUBA dive Fiji's warm waters and coral reefs with Port Denarau Marina's premier dive operator and revel in your own Fiji scuba diving adventures.
---
Fiji's coral reefs are our SCUBA Diving backyard!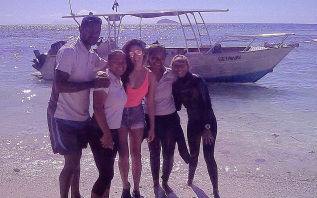 Girl Power dive team (& Nasau dude) with Shay Mitchell super star
Whitetip Marine Adventures
is the primary dive operator based at the Port Denarau Marina, Nadi and
offers scuba diving on the reef walls and fringing coral reefs of the Mamanuca Islands. For the diving enthusiast who prefers to enjoy the underwater world with only a small group of like minded marine adventurers - scuba diving is all we do!
Certified diver trips
are limited to
maximum eight divers
plus dive guides on each trip. Dive trips are 2 tanks (2 dives)
- and include a few light refreshments to keep the energy levels up.
Do we have warm water in Fiji? We think so - Summer high 30 degrees C, Winter low 25 degrees C. 'Crikey mate that's warm' I hear you say. Come check it out for yourself, we think you'll love it.
Do you need a wet suit? We don't think so, but you're welcome to use one of our 3mm shorties if you feel our Winter low of 25 degrees C water temperature is a bit cool!
Do you need to be an experienced diver to have an Adventure with Whitetip Marine Adventures? NO - all levels of diver experience are provided for - we consider divers' experience levels when selecting the dive sites to be visited to ensure the best Adventure is experienced.
Dive leaders -
All dives are lead by a qualified dive professional with a minimum certification level of SSI Dive Guide. Dive guides are along to make sure you are on the right spot to see the good stuff and have a safe and memorable Adventure.
If you haven't dived for a while, we have instructors along on most dive trips to enable quick refresher updates of skills to be done while enjoying your first dive for a while.
We have our unique to Fiji Girl Power Dive Team consisting of two very experienced young divemasters Monika and Sova, plus our very own Super Woman instructor Sharon (Shaz), each very capable of providing highly personalised care and attention throughout your diving experience.
By the way - our instructor and boat captain guys are also fantastic people and equally as good as the girl power team, but they don't fit specifications to qualify for the Girl Power Dive Team, sorry guys!
Will there be mixed levels of diver experience on board? A question often asked by experienced divers when booking dive trips! Yes there could be, is the immediate answer - but let's qualify that:
When we have divers of mixed experience and abilities, we also will have multiple Dive Guides (or instructors) on board to allow divers to be looked after according to their experience levels. The aim being to maximise the underwater Adventure of the experienced and also the lesser experienced, and without either group impacting upon the other.
Certified Divers with experience
- Two tank dive trips depart each morning and each day's nominated dive sites will be selected with regard the weather and experience levels of the divers. Being limited to small groups on each trip means we can be a little more adventurous in dive site selection as the additional Dive Guides can pay more attention to those divers with slightly less experience and ensure everyone enjoys a safe and comfortable dive.
Certified Divers with not so much experience -
Some dive sites are not suitable for divers with lesser experience and it is out intention to not place you on a dive site that exceeds you abilities or comfort levels - there are plenty of amazing coral reef dive sites for our newer divers to enjoy so talk to is about what you would like to do and we can arrange appropriate dive site selection to be made - how lucky are we to have such a diverse range of dive sites in our back yard - fantastic!
Never dived before? But would like to see what it's about -
We have two Adventure options for you to choose from - Yay! Go to our
"Not Certified Diver"
page and see what we have for you.
---

You have to see and experience your own underwater Adventure to understand why we dive ..... and why you should!