Whitetip Marine Adventures - Diver Training
Join a Whitetip Marine Adventures scuba diver training course, get in the water and join all those already having fun in the marine underwater environment - it's not as hard as you think - and you don't have to be a fantastic swimmer to become a certified Open Water Diver. All SCUBA diver courses are conducted by SSI (Scuba Schools International) certified professional dive instructors.

Family fun and ultimate family bonding experience - SCUBA diver certification starts from 10 years old and is one of few sports that is a true family bonding experience - yes Mum and Dad, your teenagers will want to be your buddy and think you are pretty cool. Hard to believe but true - So true in fact that we have a special family package so you can all learn to dive together and test our claim - 'The family that dives together has fun Adventures together'. Talk to us about a lifetime of family adventure. And the best part - you can start on-line learning anytime and have it completed before coming on holiday. Click on the 'Scuba Schools International' button below, register on line and get started today!




SSI and DiveAssure have you covered - Free!




For your peace of mind SSI has teamed with DiveAssure, a specialist insurer of Scuba Divers, and thoughout your SSI training course you are automaticaly covered by DiveAssure against any incidence of Decompression Illness through your SSI registered diver training course - at no cost to to yourself. DiveAssure complimentary cover is valid through your SSI registered course period and expires upon your diver certification or six (6) months from time of course registration, which ever comes sooner.

Following certification as a scuba diver you may choose to take up your own indivudual diver cover and DiveAssure has all the information and options available via the following link with no obligation.
---
Come - learn to Scuba dive and begin new Adventures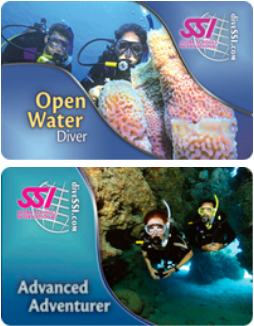 Combine both courses and save $ while gaining experience and skills
* Open Water Diver - be certified to dive to maximum depth of 18 meters - FJ $1,150
Open Water Diver courses are completed
over three days minimum
and are conducted by certified SSI dive instructors:
But what do I have to do?
Dive theory reading and discussions to build necessary dive knowledge - this can be completed on-line before coming on holiday and save precious holiday time - Recommended
Complete the Open Water Diver exam - yes you have to actually learn this stuff - you need to be a safe and confident diver
Shallow Confined Water sessions to learn your dive skills and build confidence with these skills - they're not difficult and with the skilled coaching of your instructor, they will be mastered with relative ease. Definition of confined waters is 'Swimming pool like conditions' but with the benefit of being in the salt water environment from the beginning of your training.

Complete four Open Water dives where you will practice and perfect the skills you learnt in the confined waters- but there are fish and cool things to see out on these dives and let's face it, that's why you are learning to dive.
PLEASE NOTE: There are some medical conditions that may preclude you from learning to scuba dive - check the 'Medical Statement' form below for the Medical Declaration that you will need to complete prior to commencing practical training. If in doubt about anything on the form, check with us, and we may request you obtain a medical clearance from your doctor in advance. Not all YES answers to conditions mean you can't dive - it just means it needs to be discussed and a medical clearance from your health professional is all it takes, he/she knows more about this than we do - we're Diving Instructors, not doctors,
* Advanced Adventurer Diver - be certified to a maximum depth of 30 meters - FJ $920 Need to be certified Open Water Diver first.
Five open water specialty dives - each dive focusing on the skills and knowledge to be gained from five different Specialty Diver courses.
Includes a specialty Deep dive to 30 meters and a specialty Navigation dive.
The remaining three specialty dives can be from a range of specialties that you may have an interest in eg Boat diver, Underwater naturalist diver, Perfect buoyancy diver, Equipment techniques, Wreck Diver, Search & Recovery Diver, Night Low Visibility Diver. We can chat about the specialty dive options and discover with you which courses interest you the most - then tailor the dives to advance your dive experience and confidence to suit. It is our aim to certify you as a safe and confident diver, and we keep going until you are.
---
Self Assessed Medical Statement required prior to diving -
check it out and let us know if you appear to have an issue and
we may request a professional medical clearance be obtained.