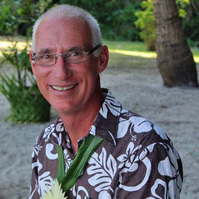 Andrew (Whitetip) - The Decision Maker (The others let him think so and makes him feel important)
- Dive Master Instructor and other instructor certifications - Scuba Schools International (SSI).
- Twenty years hotel management experience, to CEO level in Australasia.
- Seven+ years Dive operation management and company ownership in Fiji.
- Diving Philosophy - "Tourism scuba diving is 80% hospitality".
- Personal Philosophy - "Smiles all day keeps the doctor away"
- Professional Philosophy - "Do it right"
- Guess why nicknamed 'Whitetip'? Should be 'Baldtip' now, this is an old photo!

---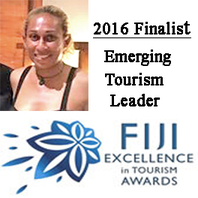 Sharon (Shaz) - Operations Manager/Head Instructor
- Girl Power Dive Team Leader
- Dive Control Specialist Instructor (DCSI) and really good at it - SSI.
- Marine Biologist and still has the passion.
- Scuba diving for eighteen years around Fiji - yes she started very young!
- Eight years instructor experience.
- 5,000+ dives - wink wink, plus the rest before becoming certified.
- An extraordinary woman and brilliant instructor.

---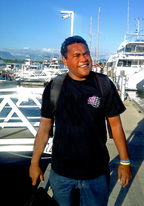 Patrick - Instructor 'Dreaming'
- Open Water Instructor - SSI.
- Seven years diving experience around Fiji's Mamanuca and Yasawa Island Groups.
- 3000+ dives and stopped counting.
- Dreaming? Always coming up with new ideas how to improve sales and operations.
- Likes to tell stories - ask Patrick about when he used to be a super fit fire dancer.
---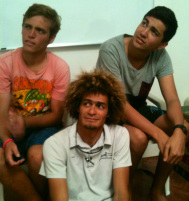 Elias (Fro) - Instructor 'Extraordinaire'
- Open Water Instructor - SSI.
- Knows as much as marine biologist but doesn't have the certificate. Also still has the passion.
- Been diving and driving boats in Fiji for more years than he can remember.
- Five years instructor experience.
- 4,000+ dives and counting.
- Whitetip's I.T. advisor - he needs one!
- Guess which one is the Fro?
- TripAdvisor regular super star, along with his wife Shaz above.


---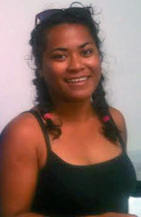 Monika - Dive Master (SSI) - Girl Power Dive Team member #2
- Seven years diving experience.
- 2,000+ dives and doesn't count anymore.
- Has long family association with tourism diving & fire dancing.
- Nickname is Smiggle - come find out why.
- Lot's of mentions on Trip Advisor (good ones).
- Currently completing her Dive Control Specialist certifcation course.
- Baby of our Whitetip family.
- We love her and so will you, guaranteed.


---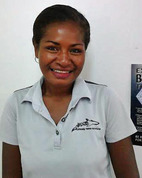 Sova - Dive Master (Padi) - Girl Power Dive Team member #3
- Eleven years diving experience.
- 3000+ dives and stopped counting.
- Dived everywhere and still loves to show off her underwater backyard playground to Fiji visitors.
- Apparently Sova can bake real nice cakes - but we have yet to see the proof.
- Currently completing her Dive Control Specialist certification course.
- Ever tried keeping a mermaid out of the water - impossible with this wonderful mermaid!

---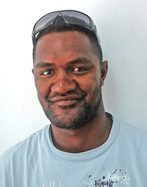 Nasau - Boat Captain - Best there is
- Many years experience as fully qualified boat captain and knows the Mamanuca Islands' waters exceptionally well.
- Most importantly, 'Sau knows the correct settings for the 'comfort suspension' on the dive boat - this guy will give the softest boat ride possible in all conditions - previous divers have described Nasau as the best captain they have ever been out diving with - not bad endorsement hey!
- Open water diver, and great at big boat hull cleans as well!
---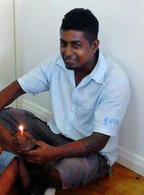 Vikash - Workshop Technican and all round do everything guy
- Been in dive industry longer than anyone else in the company.
- But doesn't dive. Except for one occassion in the pool - but that's another story best left untold!
- Qualified to service all dive equipment, tanks, compressors and fantastic on general boat maintenance requirements.
- Will probably be driving the vehicle that picks you up from your resort.
- Whitetip's right hand and left hand man, and we have never seen him grumpy!
- In his spare time, Vikash works his sugar cane farm and spoils his wife.
---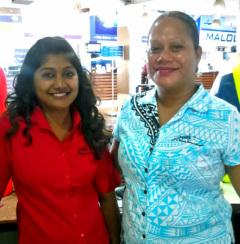 Saleshni and Adi - Marina Passenger Terminal Girl Power ladies.
- Adi looks after the sales booth six days each week until about 7pm, so plenty of time to come and see her and discuss what you may wish to do. Adi knows everyone and everything there is to do around the area and will organise your diving on the spot for your convenience.

- Saleshni is another sharp woman and looks after the booth from 8 to 10am before Adi arrives, and also does Saturdays there while Adi has her day off. Saleshni has completed an Introductory Dive and will probably continue through to open water certification so she can help the dive team with hull scrubs. Saleshni's other role is to keep the admin up to date and make sure Whitetip isn't taking short cuts with his own work.
---