We frequently get asked for accommodation referral by divers planning their trip to Fiji, and specifically to Denarau Island. Whilst we have the major brand resorts on Denarau Island ie. Sheraton, Radisson, Westin, Sofitel, Hilton and Wyndham - not everyone wishes to stay at the larger sized resorts. The major resorts are excellent and are well designed for relaxation and leisure and have 'everything' you could possibly want, BUT!

Often our divers are looking for accommodation that's not quite as 'Top End', and over time The Terraces Apartment Resort (The Terraces) has become Whitetip's recommended resort that divers have chosen to utilise. Divers voting with their bookings and positive comments to us about how The Terraces suits their needs perfectly.

The Terraces Apartment Resort is exactly that, apartments! One two and three bedroom apartments with sleeping capacity to suit small groups and families. Located right beside the Port Denarau commercial complex and it's cafes, shops, activities and about three minutes walk to our point of departure for the daily dive trip.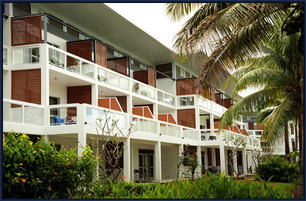 The Terraces Apartment Resort - Denarau Island - Fiji
- Two minutes walk to the Port Denarau Marina complex shops, cafes etc.
- Two minutes walk to our dive boat loading jetty.
- Two minutes walk to Passenger Terminal transit hub to the Islands.
- Apartment style resort with kitchens and large living spaces.
- One, Two and Three bedroom apartments - sleeping three, five, seven pax.
- Golf course and waterways aspect.
- Whitetip's preferred accommodation provider for divers with lots of gear.
- Very cool people and affordable rates.
- Check them out - Bookings available online - click on link below!

By the way - Whitetip Marine Adventures has no commercial link with The Terraces,
this recommendation is purely based upon excellent feed back from our divers we are sharing with you!
Cheers!
---
---
---