I want to try scuba diving, but am not sure if I want to learn to dive
or if
I just want to enjoy an underwater experience of a life time!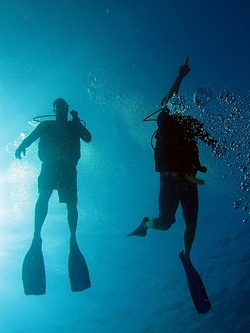 Look Mum, I'm flying

The 'Awesome' Option - Learn to Scuba dive while on holiday and make the most of Fiji's awesome warm waters and fascinating marine life? Normally the course is spread over three days to get your Open Water Diver certification, but can be spread over more days if you are looking for a more leisurely pace and have the time.

Check out the 'DIVE SCHOOL' page for course options, recommendations and prices.
Please Note - There are a some health conditions that don't mix well with Scuba diving, hence there will be a medical assessment form to be completed and reviewed with your dive instructor. Any queries or concerns? Easy, talk to our instructors, or Whitetip and check out all the options and what can be done for you.
OR

The "I Can't Believe I Did That" Option - Go on an Introductory Scuba Dive with an instructor (and with your certified diver partner if you wish to share the experience). Let our instructors take you on an introductory scuba dive which allows you to experience the underwater world, but without all the training required to become a certified diver. Old Whitetip likes to call this Tandem Scuba Diving, you are along for an amazing experience and your instructor will hold your hand and manage everything for you. Read on ..........

Think about your tandem scuba dive as being just like doing a tandem skydive, except under water. Everything is managed and handled by your fully qualified and experienced instructor. You go along for the experience of your life and have to do very little - oh, keep breathing is the only must do requirement, and let's face it, most of us have had years of practice doing just that, so all is good.

Can I really do that? Yes you probably can - there is a medical assessment form to be completed and reviewed with your instructor. There are some medical conditions that don't mix well with diving, but you instructor is fully trained and is able to discuss anything that arises from your medical assessment. This is not intended to be a scuba dive lesson, it's all about you enjoying the experience of scuba diving safely and comfortably - and, there's lots of time for questions (and nerves - that's quite natural). An awesome way to see if the underwater World is as cool as it seems.

Do I need to be a good swimmer? No you don't need to be a good swimmer, but having confidence to be in the water in necessary - talk to the instructor and see how they will progressively take you through an amazing dive Adventure your friends won't believe you have done.

Now what? Hand yourself to a dive professional and enjoy a life changing experience without the issues of having to complete extended training or sit exams - just enjoy the experience and create a 'Holiday Memory Moment' to wow your friends about when you get home. Experience and discover the amazing underwater World for approximately 30 - 40 minutes underwater with one of our fully qualified dive instructors holding your hand and ensuring you are always safe while checking out our awesome underwater world.

First your instructor will spend time going through a medical declaration form with you and then showing you how the equipment works (but he/she will manage everything during the dive so it's for your interest really), how to look after the airspaces in your body during the dive and how you both will communicate during the dive. After a brief period of practice in shallow water you will head underwater and please, be prepared to go WOW.

---